TRIP OVERVIEW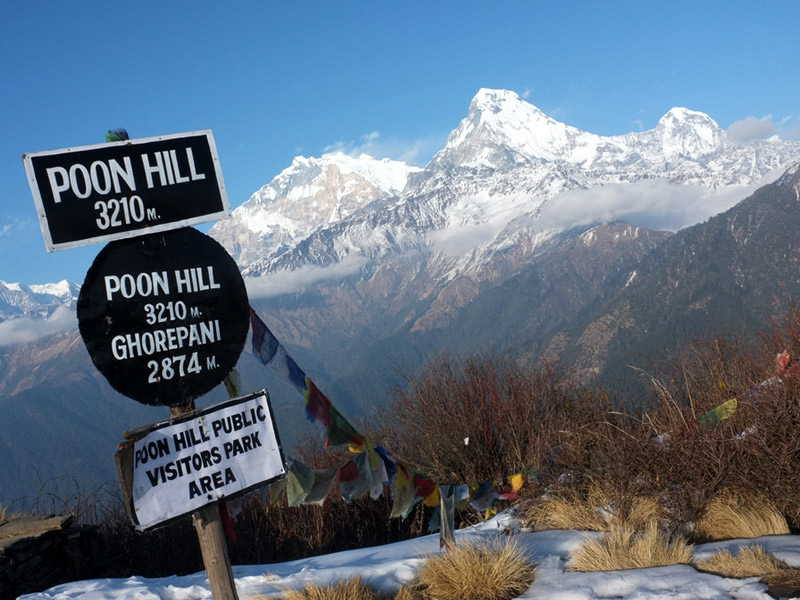 Ghorepani Poonhill trek is a colorful short trekking experience in the Annapurna region. The trail winds through patchwork valleys, condesed plussy forests and we will have great views of the high mountains, whole horizons of which will be revealed to you as you reach the high points of your trek. Walking up slowly through rhododendron forests, the majestic Annapurna range reveals itself as you emerge from the forest into Ghorepani. A short hike from Ghorepani will bring you to Poon Hill (3210m), a place of timeless beauty presenting magnificent views of the Himalayan Mountains. Ghorepani Poonhill hot spring trek offers one of the best views of trekking in Nepal. Enjoy trekking in the magnificent mountain scenery through charming villages inhabited by the Gurkha'speople, Dense rhododendron forests full of birds and deep sub-tropical valleys, all set below the Annapurnas with the picturesque peak of Machhapuchre (Fish Tail Peak) dominating the skyline. At the climax of this trek, you will climb Poon Hill at dawn to enjoy one of the most spectacular mountain views on earth. As the sun touches the snow-capped summits, the Himalayan giants – Dhaulagiri (8167m) and Annapurna (8091m) along with the jagged edge of other peaks – gradually reveal their grandeur. This is a gratifying trek for nature lovers.
Max. altitude: 3594m.
Grade: Easy Trek
Minimum group size:4
DETAIL ITINERARY
Day 1: Kathmandu
Arrival in the capital of Nepal Overnight at hotel dinner at Nepalese restaurant.
Day 2: Kathmandu Full day city sight seen
A local guide shows us his hometown as an intimate connoisseur: Kathmandu, with the temple complex Patan. He also gives us a first insight into the life of the Nepali.
Overnight at hotel.
Day 3 Trekking Pokhara – Pothana, 1890 m
In the early morning we fly along the intoxicating Himalaya chain to Pokhara. We meet our guides and porters and then drive in about 1 hour to the starting point Kande. Now our trekking begins. The path leads through rhododendron forests, which bloom in all reds in spring. It's the same route that leads to Annapurna Base Camp. After about 2 hours we reach the village of Pothana.
Overnight in a lodge.
Day 4 Trekking Pothana, 1890 m – Landruk, 1565 m
On the trail to Annapurna we meet the Gurung people, it lives on the fertile south side of the Annapurna massif. Here it cultivates the terraced fields. On the varied Panoramic view  we reach after about 4 – 5 hours the pretty village Landruk with a beautiful view of the valley.
Overnight in a lodge.
Day 5  Trekking Landruk, 1565 m – Jhinu Danda, 1780 m
Through the rural Himalayan landscape we follow the mountain trail before descending into the gorge. We cross the Himalayan River Modi Khola at the "New Bridge". Through light forest we overcome the slope up to Jhinu Danda at 1780 m. In the afternoon we can make a 30 minute detour to the 150 vertical meters lower lying hot springs. A hot bath in the midst of a magnificent nature, wonderful.
Overnight in a lodge.
Day 6  Trekking Jhinu Danda, 1780 m – Chomrong, 2170 m
The trekking route continues through subtropical vegetation up the Modi Khola valley. On the steep ascent to the Himalayan village Chomrong we are rewarded again and again with wonderful views to the Annapurna south face (7219 m). The imposing glacier wall shines in a unique contrast to the green surroundings.
Overnight in a lodge.
Day 7 Trekking Chomrong, 2170 m – Tadapani, 2630 m
Today we walk through a rhododendrons forest and over small streams to Tadapani. Between the five and six thousand years, the Annapurna south face now and then appears from time to time.
Overnight in a lodge in the small, sleepy hamlet of Tadapani.
Day 8  Trekking Tadapani, 2631 m – Ghorepani, 2860 m
Although our daily goal is only about 10 km away and only 240 m higher, you should not underestimate such stages, because in Nepal it is constantly up and down. Through magnificent rhododendrons, past waterfalls, it goes at the end of a unique trail. The view is clear on the two 8000s Dhaulagiri and Annapurna. Deep below us is the deepest gorge in the world, the Kali Gandaki Gorge. Ghorepani is the largest village on our trekking route.
Overnight in a lodge.
Day 9  Trekking Ghorepani, 2860 m – Poonhill, 3210 m – Hile, 1430 m
Even before dawn, we climb the Poonhill and experience a magical natural spectacle: The bizarre ice walls of Annapurna and Dhaulagiri shine in the red of the rising sun. Gorgeous interplay of colors! After breakfast in Ghorepani we walk for about 4 -5 hours through forests and rhododendrons, passing through hamlets, cross rivers. It is a steep descent: 1800 meters down! We spend the night in the terrace village Hile.
Overnight in a lodge.
Day 10  Trekking Hile, 1430 m – Nayapul, 1050 m Pokhara
The last trekking stage takes us down into the open valley to Nayapul. Now it's time to say goodbye to our trekking team. We conclude the Annapurna trekking with a warm carrier party with happy songs and dances. We drive about 1½ hours back to Pokhara and spend the night in the beautifully situated Fish Tail Lodge at Lake Phewa.
Day  11 Pokhara
Today, only one thing is on the program: rest. We watch the hustle and bustle in the streets of Pokhara and enjoy the wonderful panorama from our lodge.
Overnight in a lodge.
Day 12  Pokhara – Royal Chitwan National Park
We drive towards Terai Plain to the Royal Chitwan National Park. The Terai Plain is already under Indian influence, you will notice landscape and cultural differences. In the evening we do a first game drive.
Overnight in a lodge.
Day 13  Royal Chitwan National Park
The Royal Chitwan National Park is the oldest national park in Nepal. On the back of an elephant we explore the large salvia forests and elephant grass jungle. We discover a subtropical wildlife with rhinoceros, tigers, Gangesgavial and many interesting bird species.
Overnight in a lodge.
Day 14  Royal Chitwan National Park – Kathmandu
We leave the Royal Chitwan National Park and drive to Bharatpur, also called Ritschka City. There is so much to see. Flight from Bharatpur back to Kathmandu.
Overnight at hotel.
Day 15  Kathmandu
The journey is coming to an end. We stroll through the temple city Kathmandu again. The lively streets, the shopping spree in Thamel or monasteries and temples in Durbar Square: everyone spends the day according to his preferences. Evening transfer to the airport and return flight to Europe.
Overnight at hotel.
Day 16  Fly Home
Note: We are flexible to customize the trek duration as per your requirement. Please feel comfortable to write us on [email protected]
TRIP INCLUDES
Arrival & Departure from Airport to Airport
Sightseen: Kathmandu valley sightseen by professional city guide with entrance fees
Guide: 01 English Speaking guide with full experience on Himalaya
Dinner: Welcome and farewell dinner in Nepalese Restaurant
Hotel : 03 nights Hotel in Kathmandu on twin sharing base with BB
Hotel: 02 Night hotel at Pokhara with B,L,D as per above program
Hotel: 02 Night Hotel at Chitawan with B,L,D,as per above program
Food and Lodging: Food 3 meals a day (BLD; including tea and coffee) along with accessible accommodation at Hotel/Lodge during the trek.
Flight: Kathmandu/Pokhara/Chitwan/Kathmandu airfare with Guide
Permit: Annapurna conservation area project fees (ACAP),(TIMS)
Insurance :  for all staffs and porters
Map : Trekking map (if necessary)
Luggage : 15 kg per member
Porter : 2:1 basis , i.e 2 member get 1 porter to carry luggage
Staff Salary :Guide,Porter,Sherpa salary with insurance
Medical kit : 01Medical kit  for group
Note : ( B=Breakfast,L=Lunch,D= Dinner)
TRIP EXCLUDES
International flight, Nepal Entry Visa,
Lunch & dinner in Kathmandu Tips for staff and porters
Extra Night at Kathmandu, Pokhara, Chitwan
Personal Travel insurance, personal expenses, Personal Equipment, Personal Toiletries ,
Internet Service, Rescue Evacuation,
Note: For further details, you are kindly requested to contact us.