TRIP OVERVIEW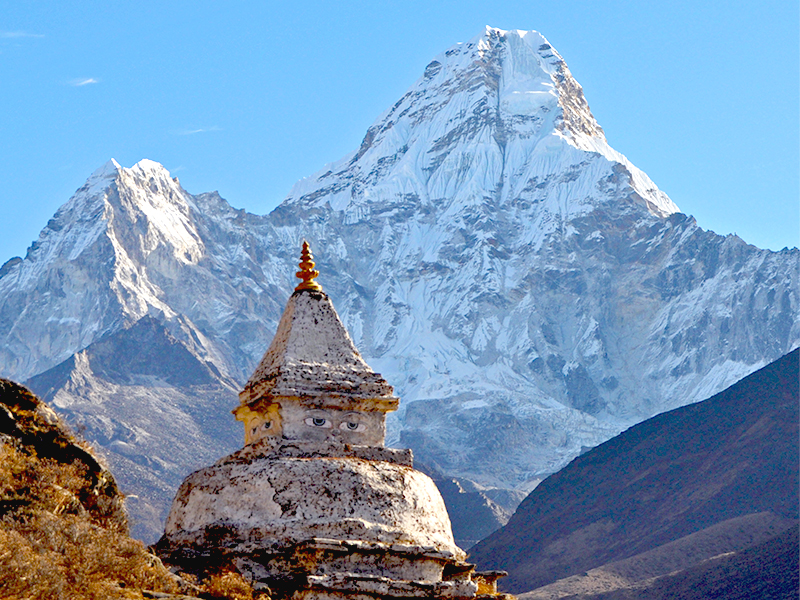 Ama Dablam is a mountain peak situated in the eastern region of Nepal nearby the Mount Everest. Ama Dablam is a beautiful peak and Ama Dablam Expedition is also equally popular among trekkers. Literally, the word 'Ama Dablam'means 'Mother's necklace' for its peak resembles the same. Ama Dablam is still considered as a sacred peak and though its altitude is around 6856 meters, Ama Dablam Expedition is considered as one of the hardest mountain expeditions in Nepal. Mount Ama Dablam was first scaled in 1961 by four mountaineers from New Zealand, USA and UK. From then on, it has been repeatedly scaled by both foreign and domestic trekkers.
DETAIL ITINERARY
Day 1: Arrival in Kathmandu airport and transfer to hotel
Day 2: Expedition briefing and preparing
Day 3: Fly to Lukla Airport(2800m) and trek to Phakding
Day 4: Trek to Namche Bazaar(3440m)
Day 5: Acclimatization day at Namche
Day 6: Trek to Tengbuche Monastry(3860m)
Day 7: Trek to Ama Dablam Base Camp(4450m)
Day 8-10: Rest Day
Day 11- Day 25: Climbing Period
Day 26: Trek back to Namche
Day 27: Trek back to Lukla
Day 28: Fly to Kathmandu
Day 29: Spare day
Day 30: Fly back to home
TRIP INCLUDES
Arrival & departure:Airport to hotel and hotel to airport (Drop and pick Up)
Hotel during stay in Kathmandu:Norbulinka Boutique Hotel or similar Category for four nights single occupancy with BB Plan.
Permits:Ama Dablam Climbing Permit, Sagarmatha National Park Fee and Local government entry fee.
Liaison Officer: The charges for government Liaison Office with his/her fee, accommodation, transport, food and logistics.
Garbage Management:Stool Shipment transfer and garbage deposit fees.
Insurance:Medical & evacuation insurance for Climbing Sherpa & all involved Nepalese staff during the expedition period.
Member Transportation:Kathmandu to Lukla by air and Lukla to Kathmandu by air.
Expedition Stuff & member expedition luggage transportation:All the expedition equipment and member expedition luggage (60 Kilograms, two pieces each 30 Kilo) cargo from Kathmandu to Lukla by plane and Lukla to Base Camp by porters/ Yaks. After completing the expedition members luggage and expedition equipment by Yaks to Lukla and Lukla to Kathmandu by plane. We also see an option to make the cargo by helicopter direct to base camp.
Trekking:As per the itinerary along with 15 kilograms luggage each person.
Food & Accommodation:Breakfast, Lunch and Dinner on menu choice during the trek and whole period of the expedition for the members and for all the staff.
Base Camp Staff:All required base camp staff along with professional expedition cook.
Staff Salary & Allowance:All involved staff salary and allowance.
Base Camp Tents:Single tent at base camp along with dinning tent, toilet tent, shower tents and communication tent on sharing basis.
Base Camp equipment:All the required base camp equipment along with Kitchen equipment, mattress and pillow, chairs, dining tables and other required equipment.
Heater, generator, Solar and light at base camp.
Internet:Internet Service can be available at base camp but subject to charge.
Welcome and farewell dinner with the staff and company owners in Kathmandu in a fine restaurant.
Comprehensive medical kits.
Climbing Sherpa:One well experienced climbing Sherpa with his salary and allowance paid.
Oxygen:Emergency use only, payable USD. 600 Per bottle.
Walkie Talkie set for communication to the camps and base camp.
Weather Forecast:Weather forecast from Swiss meteotest and Nepal meteotest will be provided.
High Camp Services:High Camp service like tents, food, high food, EPI gases, cooking cofel set will be fully provided.
Satellite Phone:Satellite phone for emergency call, subject to charge for the call.
Gamow bag:Gamow bag for emergency use will be available.
All the required government taxes and company service charge.
TRIP EXCLUDES
International air ticket and Nepal Entry Visa fee.
Extra nights hotel's stay in Kathmandu:Company provides only two nights hotel in Kathmandu in Hyatt regency, if early return or early arrival in Kathmandu and use more nights then need to pay self.
Lunch and dinner during stay in Kathmandu.
Medical and rescue evacuation insurance, needs to be applied for entire expedition period. This is mandatory for all the climbing members.
Climbing gear and trekking equipment.
Climbing Sherpa Summit Bonus of 600USDif summit, and tips for kitchen staff.
Toiletries:Soaps, Sampo, tissues papers, toothpaste and other items that keep you clean.